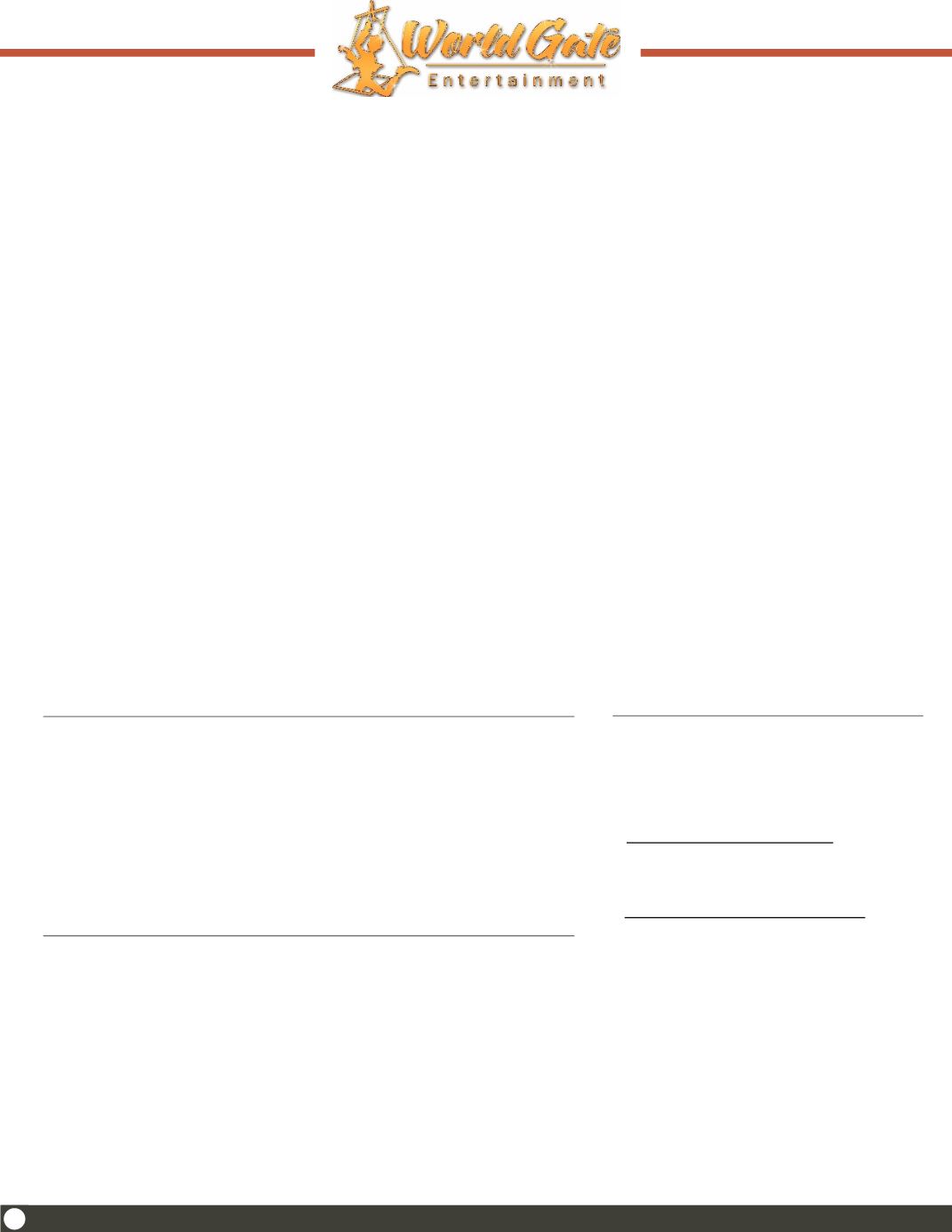 © 2017 World Gate Entertainment. All Rights Reserved.
T
HE
L
IVING
T
OPIARY
The costume
The Living Topiary costume is made of 3 parts:
• The dress, with 5 colors options: white, green, gold, silver, or red
• The base, covered with thousands of rose petals of matching color with
the dress.
• The floral décor on the headpiece and forearms. Your options are:
- Roses: White, red, pink, gold, silver, orange, green, purple
or fuchsia
- Boxwood greenery
- Sunflowers
We also create new flower themes on demand.
Description of the act
The Living Topiary show is an
interactive atmosphere act,
available in 2 possible formats:
• As a Living Statue
• Choreographed with music
The Living Topiary show is a
stationary act on pedestal.
The show
Representing the marriage of Nature
in a Human form, the Living Topiary
is a spectacular 9 feet tall
atmosphere act. This interactive
entertainment will make an impact
on your guests. Its graceful posing
will make of your Living Topiary a
spectacular focal point at your event.
Scheduling the show
Scheduling the show at your event is
easy. Each presentation, also called a set,
has a 30 minute format.
• Booking a single performer allows for
one 30 minute show per hour for up to 4
hours, with 30 minute breaks between
sets. Maximum number of sets: 4.
• Booking two performers or more, gives
two options:
Option 1:
Making a statement by having
all your Living Topiaries perform at the
same time. They will break at the same
time also.
Option 2:
Offering a continuous exposure
of the show for up to 4 hours, by having
your performers rotate on set; when one
performs, the other breaks.
Please contact us to work out a set sched-
ule for your event.
1